ACCESSIBILITY SECTOR
SMASP wants a better world, that all people can enjoy and develop, regardless of limitations. For this reason, SMASP actively participates in the accessibility sector. Devices to promote independence, elimination of architectural barriers and innovation are the fields SMASP is committed to in favoring accessibility. With previous experience in the sector in different institutions, SMASP is your ideal partner. Technological advances greatly facilitate mobility, give the possibility of doing everything imaginable. But it is necessary to support with the development of these products, so that all people can live fully.
PROJECT TYPOLOGY
FAVOR INDEPENDENCE
People with a physical disability need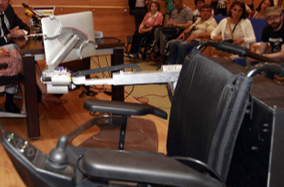 support to carry out certain activities. This support can be by people or by devices. Support by people has a more humane treatment, but they depend on the availability of the other person. The support of devices, by having the device fully available, allows you to use it at all times, increasing your freedom. SMASP has previous experience in promoting the mobility of tetraplegics. A quadriplegic person has severely reduced motor skills, so they need to use other parts of the body to supply the use of the hands and feet. SMASPIt has developed devices for the control of motorized wheelchairs by means of control through pulsations made by the mouth on a tablet. The device is housed in the wheelchair and when it is deployed. It was carried out in collaboration with the center and state reference for the care of people with severe Disabilities and for the promotion of personal autonomy and care for dependence. Another project was the development of a climbing robot for the execution of daily tasks, it was carried out in collaboration with the Carlos III University of Madrid and with the Hospital de Tetraplejicos de Toledo.

ELIMINATION OF ARCHITECTURAL BARRIERS
Until recently, Architecture was designed with the beautiful, the innovative and not the people in mind. Now it is designed with people in mind. But there are many architectural barriers for buildings and furniture for people with some physical limitation. SMASP has experience to overcome these limitations. The development of an EMT bus platform for people to have access to buses from their wheelchairs is one example. Or the study that was carried out for the transformation of certain train cars to achieve accessibility. is another proof of this.
INNOVATION ACCESSIBILITY
Technological advances will better allow the independence of all people. The hands and the voice have always been considered as elements of order entry. But there are people who have limitations in these organs. Until recently these were supplied with other organs, for example the feet. But currently technology is capable of interpreting various actions and even reading electrical impulses generated by the body. It is time that all people can have their independence.