ajarenillasp
26 June 2020
Technological foundations
The objective of "The aroma of COVID19" is to detect the disease through the volatile compounds present in people's breath.
To achieve this objective, it is necessary to know the following concepts:
The process of a disease
The body, through the skin, behaves like a fortress against external attacks. But this fortress has a series of entrances (mouth, eyes, nose) through which you can enter its interior. Food, the air we breathe, water, are essential elements for our body and are well received. But there are other elements that, camouflaged with the previous ones, try to enter its interior: pathogens (viruses, bacteria, parasites).
Once inside, the body detects that an intruder has entered, generating an immune reaction that includes a series of reactions to fight the intruder (oxidation, reduction, hydrolysis, hydration,).
In most cases, the intruder is defeated, but not at other times.
The body when detecting that it continues inside the body, releases its army (antibodies) to defeat the enemy.
In this battle, the body generates a series of reactions to defeat the enemy (Acetylation, methylation, sulfation,). These reactions produce a series of compounds (VOCs / NCOVs) that flow through the body (breathing air, skin, blood, urine, saliva, and feces).
These compounds that are already in the atmosphere arise in the moments before the person presents the symptoms and can become a very useful tool to detect this disease and anticipate prevention and cure measures.
The breathing
The air produced by breathing is composed in the following proportion.
99% of Gases: CO2, N, Water, Oxygen and inert gases.

1% volatile organic and non-organic compounds

Exogenous (produced by food and drink). They are not part of the "footprint".

Endogens (produced by metabolic reactions). They are the constituents of the "footprint"
Some occur in high concentrations (ppm), such as acetone, isoprene, and methanol; but there are others in lower concentrations (Ppb / Ppt), such as ketones, aldehydes and pentane.
The mixture of all these components is what is called "The smell of breathing"
The VOCs
The human body releases 1849 volatile compounds into the atmosphere, of which 874 is produced through human respiration, 279 through urine, 504 through effluent from the skin, 353 from saliva, 130 from blood and 381 stool.
In the table below, I include a list of the main VOCs found in the breath.
| | |
| --- | --- |
|   |   |
| Compound | Concentration Range (Ppb) |
| Acetaldehyde | 3–7 |
| Acetone | 656–836 |
| Butanone | 6–26 |
| 1-Butene | ND – 495 |
| Dimethyl sulfite | ND – 46.5 |
| Ethanol | 13–520 |
| Ethyl acetate | ND – 116 |
| Ethylene | ND – 233 |
| Furan | ND – 78.4 |
| Hexanes | 9–13 |
| Isoprene | 70–580 |
| Isopropanol | 50–260 |
| Methanol | 400–2,000 |
| Methyl Ethyl Ketone | ND – 45.3 |
| Pentane | 14 |
| 1-Pentene | ND – 140 |
| n-Propanol | ND – 1,270 |
|   |   |
The project "The aroma of COVID19", will be directed exclusively to the volatile compounds present in the breathing air for the following reasons:
They represent 35% of the total (the highest proportion)

They are accessible (they are in the atmosphere)

Greater ease of detection.
Volatile compounds as a means of detecting diseases
The following is a list of some volatile compounds, which are the "footprint" of some diseases.
COMPOUND

Scale

Action

Disease

Acetaldehyde

Ppb

The metabolism of ethanol

Liver dysfunction

Acetone

Ppb

Fatty acid metabolism

Diabetes

Alkylamines

Ppb

 

Renal function

Ammonia

Ppb

Protein metabolism

Kidney or liver dysfunction, urea cycle

2-Aminoacetophenone

Ppb

The metabolic products of bacteria

Liver disorder, encephalitis, exercise, Infections

Carbon dioxide

%

Breathing

CO2 production, pulmonary perfusion, alveolar ventilation, respiratory patterns, measurement of indirect metabolism, CO2 elimination after anesthesia and ventilators.

Monoxide carbon

Ppm

Heme catabolism catalyzed by the cytoprotective role of heme oxygenase

Immune response to infection, induction of antioxidant defenses

Carbonyl Sulfide

Ppb

Intestinal bacterial oxidation of reduced sulfur species

Lung transplant recipient with acute rejection, liver dysfunction

Ethane

Ppb

Lipid peroxidation, acute injury or injury related to chronic disease

Oxidative stress, immune response to infection, induction of antioxidant defenses

Ethanol

Ppb

 

Bacterial intestinal metabolism of sugars

Gastrointestinal and liver function

Ethylene

Ppb

Lipid peroxidation involved in molecular signaling, acute injury, or chronic disease-related injury

Oxidative stress, immune response to infection, induction of antioxidant defenses

Hydrogen

Ppm

Intestinal bacterial metabolism of carbohydrates, lactose deficiency, digestive malabsorption and monosaccharide disorders, starch malabsorption

Gastroenteric diseases, disorders of digestion and absorption

Hydrogen cyanide

Ppb

The metabolic products of bacteria, synthesized by P. aeruginosa

Infection

Hydrogen sulfide

Ppb

Bacterial metabolism of thiol containing brain mediating proteins

Gastrointestinal and liver function

Isoprene

Ppb

May participate in the regulation of HMGCoA reductase

Cholesterol biosynthesis; psychological stress

Leukotrienes

Ppb

Inflammatory processes

COPD

Isoprostanes

Ppb

Inflammatory processes

Cystic fibrosis, COPD

Methane

Ppm

Disacaridase deficiency, gastrointestinal transit time, bacterial overgrowth, intestinal static

Gastrointestinal diagnoses, intestinal bacterial carbohydrate metabolism

Methanethiol

Ppb

Methionine metabolism

Liver function

Methylamine

Ppb

protein metabolism

 

Methylnicotinate

Ppb

The metabolic products of bacteria

Infection

Methyl sulfide

Ppb

 

Liver function

Nitric oxide

Ppb

Pulmonary inflammation, production catalyzed by nitric oxide synthases involved in vasodilation, or neurotransmission

Asthma, COPD, cystic fibrosis, dysfunction of lung implants, lung cancer, body response to infection, induction of antioxidant defenses.

Nitrite / nitrite

Ppb

Lung inflammation

Cystic fibrosis, asthma

1-Pentane

Ppb

Lipid peroxidation, water% respiration

Oxidative stress, lipid peroxidation, acute injuries or injuries related to chronic diseases, body response to infection, induction of antioxidant defenses

Furan pentyl

Ppb

Bacterial metabolic products

Infection

Prostanoids

Ppb

Lung inflammation

COPD

Vinyl chloride

Ppb

 

VOC Exposure

Cis-1,2-dichloroethene

Ppb

 

VOC Exposure

Chloroform

Ppb

 

VOC Exposure

Bromodichloromethane

Ppb

 

VOC Exposure

Trichloroethene

Ppb

 

VOC Exposure

H2O2

 

Oxidative stress

Asthma, COPD, bronchiectasis, SRAE

carbon isotopes

 

H. pilori infection

Gastritis, duodenal ulcer, gastric ulcer and cancer.

BMACa

Ppb

Lipid peroxidation

Oxidative stress

CO2 / O2 ratio

 

Drug excretion

Respiratory monitoring of the CO2 / O2 ratio of respiration

2,3-dihydro-benzofuran

Ppb

 

Liver cancer

Hexane

Ppb

 

Lung cancer

Methyl-pentane

Ppb

 

Lung cancer

o-toluidine

Ppb

 

Lung cancer

Aniline

Ppb

 

Lung cancer

Methanol

Ppb

 

Lung cancer

Ketones

Ppb

 

Lung cancer
COVID19 mainly attacks the respiratory system, for this reason, I wanted to highlight (in light gray) those compounds related to a general infection and (in dark gray) those that indicate disorder in the respiratory system.
Therefore, a priori, it would be necessary to use sensors capable of detecting carbon dioxide, carbonyl sulfide, ethylene, hydrogen cyanide, leukotrienes, isoprostrans, nitric oxide, nitrites, nitrates, prostanoids, water, BMACA, methylpentane. , aniline, methanol, acetone.
Sensors for the detection of VOCs
The methods that are commonly used to detect these compounds are:
High precision (Ppb): Gas chromatography (GC, IMS, MS), PTR-MS, SIFT-MS, Laser spectroscopy
Moderate Accuracy (Ppm): Sensors.
High precision ones tend to be expensive and difficult to use, while Low precision ones are usually cheap and easy to use. For the detection of volatile compounds (table above), a detection capacity of the order of Ppb is necessary, so that initially the sensors could not be used. But by interrelating sensors through a network and processing these relationships through artificial intelligence algorithms, it is possible to increase the sensitivity of Ppm to Ppb, making it valid for detection.
For the project "The aroma of COVID19" it is necessary to use an array of sensors, which is a network made up of different specialized sensor networks, being able to identify different compounds simultaneously.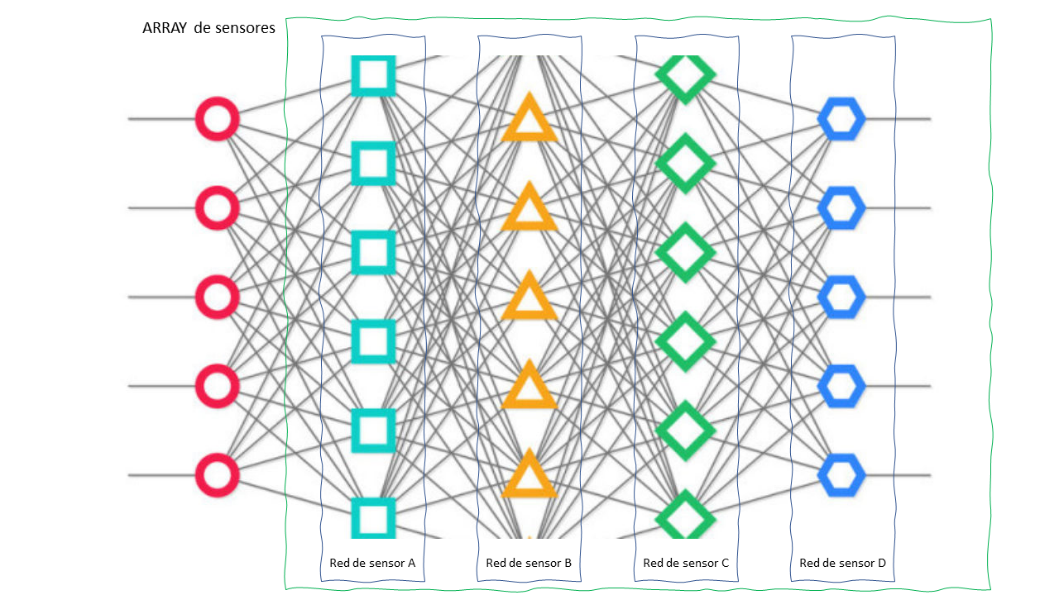 Electronic design
An electronic device with a powerful and low-cost controller, with multiple inputs and outputs to incorporate the sensor array, with a high processing capacity and which can communicate with the outside (Wifi)
The Arduino Due board has been preselected because it meets all of these requirements and is low in cost.
The appropriate sensors (Figaro, Renesas, ...) will be incorporated into this board in the digital inputs, which will make possible the detection of these compounds
Volunteer network
For the "The aroma of COVID19" Project to be a success, it must be spread, the more people who try it, the better the result.
For this reason, a related database will be created through Airtable (or similar) to create a network of volunteers.
Airtable , is a website specialized in these matters and in which there are already a large number of volunteer networks focused on COVID19.
Economic resources
Obtaining economic resources to finance the volunteers' purchase of the components for the manufacture of the electronic device, the following routes have been proposed:
Through sponsors. Governments are offering financing for the development of measures that facilitate the so-called "Return to the new normal". Some companies are seeking social involvement, also offering resources for initiatives that promote social good.

Via crowdfunding: creation of a patronage campaign.

Via collaborators. Companies that transfer their material for the development of social projects.

A mixture of the above

Obtaining subsidies 
Artificial intelligence
A neural network with unsupervised learning in order to obtain classification.
The algorithms used in artificial intelligence are usually dedicated, specialized to perform a certain function.
In the case of the project "The aroma of COVID19" it is necessary to design them specifically for the project.
Artificial intelligence is going to be used in order to obtain two scopes:
Increase the accuracy of the sensors from Ppm to Ppb, in order to achieve the sensor array

Generate the classification of data, in order to obtain the COVID footprint
To achieve these goals and achieve a better response, be created in Kaggle . a competition with the challenge of obtaining the best algorithms that solve the problem, detecting the COVID19 footprint.